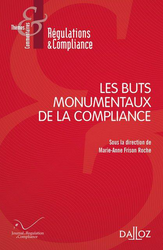 ► Full Reference : Frison-Roche, M.-A. (ed.), Les Buts Monumentaux de la Compliance (Compliance Monumental Goals), series "Régulations & Compliance", Journal of Regulation & Compliance (JoRC) and Dalloz, 2022, to be published. _
____
► This book in a few words: Seize Compliance by its mind: its Monumental Goals. The notion of "monumental goals" of Compliance was proposed in 2016 by Marie-Anne Frison-Roche📎!footnote-1901. It has become explicit in the texts and the resolution of cases, for example to fight against climate change, make human beings effectively equal, force to be extraterritorially vigilant about suppliers.
Compliance Monumental Goals are targeted ex ante by regulations, contracts, CSR, and international treaties. Creating an alliance between business and political authorities, aiming for a new form of sovereignty. The presence in litigation of these Monumental Goals of global dimension renews the responsibilities and the Judge office. Describing and conceiving these Monumental Goals makes it possible to anticipate Compliance Law, which is more powerful every day.
____
►In parallel, a book in English Compliance Monumental Goals, is published in the same collection.
__
►This book follows a cycle of colloquia 2021 organized by the Journal of Regulation & Compliance (JoRC) and by its universities partners.
____
This volume is the continuation of the books dedicated to Compliance in this collection.
Read the presentations of the other books on Compliance in this collection:
📕 Frison-Roche, M.-A. (ed.), Les outils de la Compliance, 2020
📕 Frison-Roche, M.-A. (ed.), Pour une Europe de la Compliance, 2019
📕 Borga, N., Marin, J.Cl. Roda, J.-Ch. (ed.), Compliance : Entreprise, Régulateur, Juge, 2018
📕 Frison-Roche, M.-A. (ed.), Régulation, Supervision, Compliance, 2017
📕 Frison-Roche, M.-A. (ed.), Internet, espace d'interrégulation, 2016
📕 Read the presentations of the other titles of the collection.
____
► General construction of the Book : The book opens with a double Introduction, the first summarizing the book (in free access) ​and the second, more substantial, proposing the Monumental Goals as definition of Compliance Law putting them at its "beating heart", giving this new branch of law its originality and specificity, explaining what, in the History of the United States and Europe, gave birth to this singular corpus and justifies a substantial definition of Compliance Law. The concept of Monumental Goals is explained, justifying both systemic and political nature of Compliance Law, the practical consequences of which legal specific rules are thus better identified and limited, since Compliance Law does not lead to all-obedience. We can then determine what we can expect from this Law of the Future that is Compliance Law.
From there, the book unfolds in 5 titles.
A first Title is devoted to the "radioscopy" of this notion, in itself and branch of Law by branch of Law.
A second Title aims to measure how the Monumental Goals are questioned by a crisis, for example in a health situation, but not in that example, if they aggravate it and must be discarded, or if, on the contrary, they are exactly conceived for this hypothesis. of crisis, risks, catastrophes and that it is advisable to exploit them, in order, in this "test", to benefit from the alliance between the political authorities, public powers and crucial operators.
Once made explicit and tested, the Monumental Goals must find a sure way to be considered. Therefore a third Title aims to measure in principle and in practice how the Proportionality method can help the integration of Compliance, thus giving a new dimension to the Law without dragging it into insecurity and illegitimate grabbing of powers.
But because Compliance Monumental Goals express a very great ambition, the question of a bearable, even beneficial relationship with the international competitiveness of companies, standards and systems must be opened. This is the object of the fourth Title.
Finally, because the Monumental Goals express by nature a new ambition of the Law in a world which must not give up in what could be the prospect of its abyss, the fifth Title has for object the relationship between the Monumental Goals of Compliance and Sovereignty.
___
► Understand the book through the Table of Contents and the summaries of each article:
DOUBLE INTRODUCTION
📝 Frison-Roche, M.-A., Summary of the book Les buts monumentaux de la compliance (in French) : free access
📝 Frison-Roche, M.-A.,Les Buts Monumentaux, cœur battant du Droit de la Compliance
I. LA NOTION DE BUTS MONUMENTAUX DE LA COMPLIANCE (" THE IDEA OF COMPLIANCE MONUMENTAL GOALS")
📝Maistre, R.-O., Quels buts monumentaux pour le Régulateur dans un paysage audiovisuel et numérique en pleine mutation ?
📝 Beaussonie, G. Droit pénal et Compliance font-ils système ?
📝 Le Fur, A.-V., Intérêt et raison d'être de l'entreprise : quelle articulation avec les buts monumentaux de la compliance ?
📝Le Goff, A., La part des banques dans la concrétisation des Buts monumentaux de la Compliance
📝Vaquieri, J.-F., Les "Buts Monumentaux" perçus par l'entreprise. L'exemple d'Enedis
📝Malaurie, M.., Les buts monumentaux du droit du marché. Réflexion sur la méthode
📝La Garanderie, D. de, Sur les buts monumentaux de la compliance sociale
📝 Peicuti, C. et Beyssade, J., La féminisation des postes à responsabilité dans les entreprises comme But de la Compliance. Exemple du secteur bancaire
📝 Gavanon, I., Le droit des données personnelles dans l'économie numérique à l'épreuve des buts monumentaux
📝 Petit, B., L'agencement des buts monumentaux du droit du travail : un ensemble mouvant et souvent paradoxal
📝 Huglo, Ch., À quelles conditions le Droit climatique pourrait-il constituer un But Monumental prioritaire ?
II. MISE EN OEUVRE DES BUTS MONUMENTAUX DE LA COMPLIANCE EN ARTICULATION DU PRINCIPE MAJEUR DE LA PROPORTIONNALITÉ ("IMPLEMENTATION OF COMPLIANCE MONUMENTAL GOALS IN ARTICULATION OF THE MAJOR PRINCIPLE OF PROPORTIONALITY")
📝Rapp, L., Proportionnalité et Normativité
📝 Bär-Bouyssière, B., Les obstacles pratiques à la place effective de la proportionnalité dans la Compliance
📝 Mendoza-Caminade, A., Proportionnalité et évaluation. L'exemple du Droit de la propriété intellectuelle
📝Meziani, L., L., Proportionnalité en Compliance, garant de l'ordre public en entreprise
📝 Segonds, M., Compliance, proportionnalité et sanctions. L'exemple des sanctions prononcées par l'Agence française anticorruption.
📝 Frison-Roche, M.-A., Proportionnalité et Compliance
III. LES BUTS MONUMENTAUX DE LA COMPLIANCE ÉPROUVÉS PAR LES SITUATIONS DE CRISES ("THE COMPLIANCE MONUMENTAL GOALS TESTED BY CRISIS SITUATIONS")
📝 Oumedjkane, A., Tehrani, A. et Idoux, P., Normes publiques et Compliance en temp de crise : les Buts Monumentaux à l'épreuve. Eléments pour une problématique
📝 Bonnet, J., La crise, occasion de saisir la Compliance comme mode de communication des autorités publiques
📝 Sudres, N., Gel hydroalcoolique, Covid-19 et Compliance : des insuffisances de la démarche de conformité à l'émergence d'îlots de compliance
📝 Frison-Roche, M.-A., Place et rôle des entreprise dans la création et l'effectivité du Droit de la Compliance en cas de crise
IV. EFFECTIVITÉ DES BUTS MONUMENTAUX DE LA COMPLIANCE ET COMPÉTITIVITÉ INTERNATIONALE ("EFFECTIVENESS OF COMPLIANCE MONUMENTAL GOALS AND INTERNATIONAL COMPETITIVENESS")
📝 Deffains, B., L'enjeu économique de compétitivité internationale de la compliance
📝 Roda, J.-Ch., Compliance, enquête interne et compétitivité internationale : quels risques pour les entreprises françaises (à la lumière du Droit antitrust) ?
📝Marty, F., L'apport des programmes de conformité à la compétitivité internationale : une perspective concurrentielle
📝Lochmann, S., Les agences de notation ESG et l'effectivité de la Compliance face à la Compétitivité internationale
📝 Frison-Roche, M.-A., Appréciation du lancement d'alerte et de l'obligation de vigilance au regard de la compétitivité internationale
V. LA COMPLIANCE PORTÉE PAR LES BUTS MONUMENTAUX, NOUVELLE VOIE DE SOUVERAINETÉ ("COMPLIANCE SUPPORTED BY MONUMENTAL GOALS AND NEW WAY OF SOVEREIGNTY")
📝 Bismuth, R., Compliance et Souveraineté : relations ambigües
📝 Benzoni, L., Commerce international, compétitivité des entreprises et souveraineté : vers une économie politique de la compliance
📝 Boursier, M.-A., Les Buts Monumentaux de la Compliance : mode d'expression des Etats
📝 Pottier, S., Pour une compliance européenne, vecteur d'affirmation économique et politique
📝 André, Ch., Souveraineté étatique, souveraineté populaire : quel contrat social pour la compliance ?
📝 Frison-Roche, M.-A., Le principe de proximité systémique active, corolaire du renouvellement du Principe de Souveraineté par le Droit de la Compliance
________