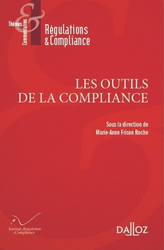 ♾️ follow Marie-Anne Frison-Roche on LinkedIn
♾️ subscribe to the Newsletter MAFR Regulation, Compliance, Law
____
► Full Reference: M.-A. Frison-Roche (ed.), Les outils de la Compliance, coll. "Régulations & Compliance", Journal of Regulation & Compliance (JoRC) & Dalloz, 2021, 323 p.
____
📘In parallel, the English version of this book, Compliance Tools, is published in the collection co-published by the Journal of Regulation & Compliance (JoRC) and Bruylant.
____
📅This book comes after a cycle of colloquia organised by the Journal of Regulation & Compliance (JoRC) and its Academic Partners.
____
This volume is the continuation of the books dedicated to Compliance in this collection.
📚Read the other books ' presentations of the collection about Compliance:
📕 M.-A. Frison-Roche (ed.), La juridictionnalisation de la Compliance, 2023
📕 M.-A. Frison-Roche (ed.), Les Buts Monumentaux de la Compliance, 2022
📕 M.-A. Frison-Roche (ed.), Pour une Europe de la Compliance, 2019
📕 N. Borga, J.-Cl. Marin, J.-Ch. Roda (ed.), Compliance : l'Entreprise, le Régulateur et le Juge, 2018
📕 M.-A. Frison-Roche (ed.), Régulation, Supervision, Compliance, 2017
📕 M.-A. Frison-Roche (ed.), Internet, espace d'interrégulation, 2016
📚Read the presentations of the other titles of the collection.
____
► General presentation of the book: The political dimension of Compliance Law resides in the monumental goals that it aims for and which define it. These goals are internalized in "crucial operators", who willingly or by force must structure themselves and act to achieve "monumental goals", as set by public authorities and which may coincide with the interests of the enterprise. This one designs and controls the Ex Ante reorganization that this implies, under the public authorities supervision. Enterprises, even if their activities are not regulated, thus become transparent and must show the Compliance Tools effectively deployed to effectively achieve these goals. It is a major transformation of economic life in all countries because the Compliance Tools are adopted everywhere and have a global effect.
These appear to be very diverse but their unity is profound and bringing it out has the practical benefit of producing a legal regime that is as unified as possible, while allowing their adaptation country by country, sector by sector, enterprise by enterprise.
This book aims to understand these Compliance Tools to better anticipate the assessment that will be made by Regulators, Supervisors and Courts, as well as the new conceptions of the authors of legal texts which impose new ones every day, while companies must also imagine the most appropriate Compliance Tools.
This collective work specifically apprehends those on which we have few studies when we handle them on a daily basis, such as risk mapping or training or rights, letting more familiar tools shine through more transversal contributions, such as compliance programs, sanctions, whistleblowing or many sorts of settlements, agreements of public interest.
A first chapter takes a legal and economic approach. A second chapter emphasizes the role of risk mapping. A third chapter draws the game of incentives. A fourth chapter identifies the expertise required. A fifth chapter insists on geographic significance. A sixth chapter details the measurement of effectiveness. A seventh chapter explores training. The eighth chapter examines technological tools. The concluding article leads to rights.
____
► Read the general introduction of the book (in French).
____
► Understand the book through the Table of Contents and the summaries of each article:
INTRODUCTION
🕴️M.-A. Frison-Roche, 📝Décrire, concevoir et corréler les outils de la compliance, pour en faire un usage adéquat
I. APPROCHES JURIDIQUE ET ÉCONOMIQUE DES OUTILS DE LA COMPLIANCE (LEGAL AND ECONOMIC APPROACHES TO COMPLIANCE TOOLS)
🕴️M.-A. Frison-Roche, 📝Approche juridique des outils de la compliance. Construire juridiquement l'unité des outils de la compliance à partir de la définition du Droit de la compliance par ses "buts monumentaux"
🕴️L. Benzoni et 🕴️B. Deffains, 📝Approche économique des outils de la compliance : finalité, mesure, effectivité de la compliance "subie" et "choisie"
II. LA CARTOGRAPHIE DES RISQUES, OUTIL CENTRAL DE LA COMPLIANCE (RISK MAPPING, CENTRAL COMPLIANCE TOOL)
🕴️M.-A. Frison-Roche, 📝Dresser des cartographies des risques comme obligation et le paradoxe des "risques de conformité"
🕴️N. Guillaume, 📝Cartographie des risques de compliance. Premiers aperçus des enjeux, des limites et des bonnes pratiques
III. PLACE ET MANIEMENT DES INCITATIONS DANS LES SYSTÈMES DE COMPLIANCE (PLACE AND USE OF INCENTIVES IN COMPLIANCE SYSTEMS)
🕴️L. Rapp, 📝Théorie des incitations et gouvernance des activités spatiales
🕴️M.-A. Frison-Roche, 📝Résoudre la contradiction entre "sanction" et "incitation" sous le feu du Droit de la compliance
🕴️M. Larouer, 📝La manifestation des mécanismes incitatifs dans le droit français de la compliance
🕴️H. Tardieu, 📝Souveraineté des données et compliance
🕴️L. Calandri, 📝Incitation(s) et autorégulation(s) : quelle place pour le droit de la compliance dans le secteur audiovisuel?
🕴️M.-A. Frison-Roche, 📝Compliance et incitations : un couple à propulser
IV. LES EXPERTISES REQUISES EN MATIÈRE DE COMPLIANCE (THE REQUIRED EXPERTISES IN TERMS OF COMPLIANCE)
🕴️A. Gutierrez-Crespin, 📝L'audit du dispositif de compliance : un outil clé pour en vérifier la robustesse
🕴️S. Koenigsberg et 🕴️Fr. Barrière, 📝La construction de l'expertise de l'avocat en matière de compliance
🕴️Th. Amico, 📝La Compliance ou le passage de l'ex post à l'ex ante. Une révolution copernicienne pour l'avocat pénaliste ?
V. LA PRÉGNANCE GÉOGRAPHIQUE DES OUTILS DE LA COMPLIANCE (THE GEOGRAPHICAL DOMINANCE OF COMPLIANCE TOOLS)
🕴️J.-B. Racine, 📝Propos introductifs. La prégnance géographique dans le choix et l'usage des outils de la compliance
🕴️M. M. Salah, 📝Conception et application de la compliance en Afrique
🕴️R. Burlingame, 🕴️K. Coppens, N. Power et 🕴️D.H. Lee, 📝Compliance : lutte internationale contre la corruption et gestion des risques
VI. LA MESURE DE L'EFFECTIVITÉ DES OUTILS DE LA COMPLIANCE (THE MEASURE OF COMPLIANCE TOOLS EFFECTIVITY)
🕴️M. Galland, 📝Le contrôle par le régulateur de l'effectivité des instruments de compliance mis en place par l'entreprise
🕴️A. Banck, 📝La maturité de l'utilisateur d'un outil de compliance, premier critère du choix de l'outil adéquat
VII. LA FORMATION, ALPHA ET OMÉGA DE LA COMPLIANCE (TRAINING, ALPHA AND OMEGA OF COMPLIANCE)
🕴️H. Causse, 📝La compliance : par et au-delà de la formation juridique classique
🕴️M.-A. Frison-Roche, 📝La formation : contenu et contenant de la compliance
🕴️Th. Thouret, 📝Formation et compliance : deux outils corrélés de transmission d'information
VIII. LES OUTILS TECHNOLOGIQUES ET LA COMPLIANCE BY DESIGN (TECHNOLOGICAL TOOLS AND COMPLIANCE BY DESIGN)
🕴️J.-Ch. ​Roda, 📝La compliance by design en antitrust : entre innovation et illusion
🕴️C. Granier, 📝L'originalité normative de la compliance by design
🕴️L. Pailler, 📝Les outils technologiques, la compliance by design et le RGPD : la protection des données dès la conception
🕴️S. Merabet, 📝La morale by design
CONCLUSION
🕴️M.-A. Frison-Roche, 📝Les droits subjectifs, outils premiers et naturels du Droit de la compliance
________