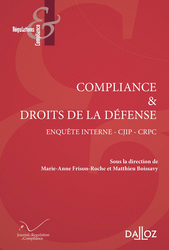 ► Référence complète : O. Catherine, "La spécificité des enquêtes internes pratiquées par les groupes internationaux", in M.-A. Frison-Roche et M. Boissavy (dir.), Compliance et droits de la défense. Enquête interne – CJIP – CRPC, Journal of Regulation & Compliance (JoRC) et Dalloz, coll. "Régulations & Compliance" à paraître.
____
📕consulter une présentation générale de l'ouvrage, Compliance et droits de la défense. Enquête interne – CIIP – CRPC, dans lequel cet article est publié
____
► Résumé de l'article (fait par le Journal of Regulation & Compliance - JoRC) : l'article a pour objet de décrire comment se déroule une enquête interne lorsqu'elle est diligentée dans une entreprise de dimension internationale. Les juristes d'entreprise sont particulièrement rompus à le faire, ayant suivi les évolutions des grandes entreprises, mutations qui impliquent la dynamique d'enquêtes internes globales.
Pour y procéder, le juriste d'entreprise doit non seulement se muer en "enquêteur" mais encore établir préalablement un programme de conformité légitime et robuste, global et intégrant les particularités locales. Ce référentiel ainsi constitué dans un corpus communs de normes vise notamment le système d'alertes et la conduites des enquêtes internes. Ce dispositif, transparent, doit produire de la confiance dans l'ensemble du groupe.
Les enquêtes sont souvent internationales ou se déroulent souvent à l'étranger, le particularisme français tenant à la fragilité du secret des correspondance avec l'avocat et l'absence de confidentialité des avis juridiques pouvant mettre en difficulté l'entreprise dans la bonne menée du dispositif, alors même que les règles d'imputabilité de la responsabilité pénale s'assouplissent à l'égard des groupes.
L'auteur décrit ensuite la conduite opérationnelle des enquêtes internes menées par un groupe international.
____
🦉Cet article est accessible en texte intégral pour les personnes inscrites aux enseignements de la Professeure Marie-Anne Frison-Roche
________