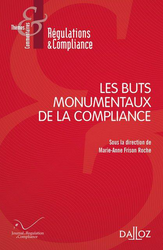 ► Full Reference: J.-Ch. Roda, "Compliance, enquêtes internes et compétitivité internationale : quels risques pour les entreprises françaises (à la lumière du droit antitrust) ?" ("Compliance, internal investigations and international competitiveness: what are risks for the French companies (in the light of Antitrust Law)?"), in M.-A. Frison-Roche (ed.), Les Buts Monumentaux de la Compliance, coll. "Régulations & Compliance", Journal of Regulation & Compliance (JoRC) and Dalloz, 2022, p. 367-380.
____
📕read a general presentation of the book, Les Buts Monumentaux de la Compliance, in which this article is published
____
► Summary of the article (done by the Journal of Regulation & Compliance): The author draws on American and European Competition Law to measure whether internal investigations, as far as they provide factual elements, can provide foreign authorities and competitors, here American, with "sensitive information" (notably via leniency programs), and as such constitute a competitive handicap. But this turns out to be quite difficult, whereas compliance audits, for example under the legal duty of vigilance, can provide American litigants with useful information, drawn from internal documents, in particular the reports of compliance officers, which can be captured by the procedures of discovery.
French law remains weak face of these dangers, due to its refusal to recognize the legal privilege mechanism concerning these internal documents, contrary to the American Law and the consequent effectiveness of discovery in international procedures, concerning internal documents, in particular resulting from internal investigations. Solutions have been proposed, the activation of a new conception of blocking laws being complex, the prospect of adopting a legal privilege being more effective, but there would remain the hypothesis of an international conflict of privilege, American Law having a strict design of legal advice justifying it and judges checking that powerful companies do not use it artificially.
________