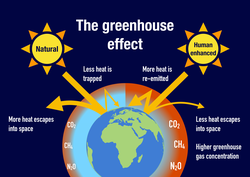 Référence complète : Frison-Roche, M.-A., S'associer structurellement pour atteindre un But Monumentale. Equilibre entre Concurrence et Compliance : l'entente bienvenue entre deux opérateurs dominants pour réduire l'émission des gaz à effet de serre, 28 juin 2022.
____
L'Autorité néerlandaise de la concurrence, l' Authority for Consumers and Markets, a exprimé le 27 juin 2022 une "opinion" concernant deux opérateurs énergétiques très puissants, Shell et TotalEnergie, décidés à collaborer pour réduire la pollution, parce que les effets négatifs de cette restriction de concurrence engendrée par cette entente sont moindres que les effets positifs de réduction d'émission de gaz à effet de serre, leur contribution à la lutte contre le déséquilibre climatique justifiant ainsi cette collaboration.
Au-delà de l'analyse précise de la situation, l'Autorité présente ainsi sa décision : "Following an assessment of their plans, the Netherlands Authority for Consumers and Markets (ACM) has decided to allow competitors Shell and TotalEnergies to collaborate in the storage of CO2 in empty natural-gas fields in the North Sea. By transporting CO2 through pipes and storing it in old gas fields, this greenhouse gas will not be released into the atmosphere. This initiative thus helps realize the climate objectives. As cooperation is necessary for getting this initiative off the ground and for realizing the climate benefits, the slight restriction of competition between Shell and TotalEnergies is not that harmful. The benefits for customers of both companies and for society as a whole exceed the negative effects of that restriction.".
L'Autorité n'hésite donc pas à affirmer que les entreprises peuvent s'entendre structurellement car cela est bénéfique pour les deux entreprises, bénéfiquespour les consommateurs et bénéfique pour le groupe social.
C'est surtout le dernier point qui est important.
Cette décision illustre l'évolution du rapport entre le Droit de la Concurrence et le Droit de la Compliance. Nous sommes bien loin de la façon dont on présente encore souvent ces deux branches du Droit, notamment dans ce que serait la Compliance pour le Droit de la Concurrence, à savoir un moyen d'accroître l'effectivité le Droit de la Concurrence (I). L'évolution de plus en plus forte donne aux entreprises le pouvoir, parce qu'elles en ont l'obligation d'atteindre le "but monumental" de faire quelque chose en matière climatique, par exemple d'inventer ensemble des structures bénéfiques à l'équilibre climatique : ce qui relève alors du Droit de la Compliance, lequel n'accroît pas le Droit de la Concurrence (puisque la Compliance légitime les ententes) mais vient se mettre en équilibre face au Droit de la Concurrence (II). En cela, le Droit de la Compliance est le prolongement du Droit de la Régulation, comme lui Ex Ante (les entreprises demandent en Ex Ante la validation de leur structure collaborative, et cela en dehors de tout secteur (III). L'avenir est donc au Droit de la Compliance, pilier de ces nouveaux équilibres.
I. LE RAPPORT TRADITIONNELLEMENT PRESENTÉ ENTRE DROIT DE LA CONCURRENCE ET DROIT DE LA COMPLIANCE
Lorsqu'on consulte le droit souple disponible, notamment celui émis par les Autorités de concurrence, par exemple le nouveau "document-cadre" publié par l'Autorité de la concurrence une première fois le 11 octobre 2021 puis une seconde fois, sous une forme définitive, le 24 mai 2022 : Document-cadre du 24 mai 2022 sur les programmes de conformité aux règles de concurrence.
Ce document débute ainsi : "La conformité, terme désormais bien ancré dans la pratique (également sous son nom anglais de « compliance ») désigne à la fois un processus et un objectif. L'objectif de la conformité consiste, pour une entreprise, à défendre des valeurs et encourager des comportements vertueux pour pleinement respecter les règles, notamment de concurrence. C'est une démarche éthique qui favorise un fonctionnement concurrentiel libre et non faussé de l'économie et permet pour les entreprises une gestion optimisée des risques, qu'ils soient financiers ou réputationnels. Le terme conformité renvoie, également, à un processus interne mis en place de façon permanente au sein même des entreprises, qui s'appuie notamment sur les « programmes de conformité ». La conformité désigne, à cet égard, les actions internes mises en place qui visent à diffuser la culture de concurrence, à assurer le respect des règles et la responsabilisation des acteurs économiques en faveur d'une concurrence basée sur les mérites. Les programmes de conformité s'appliquent aussi bien à prévenir les risques d'infraction aux règles de concurrence qu'à détecter les infractions éventuelles et à y remédier. Ils sont, en outre, amenés à évoluer au gré des besoins et des changements intervenus. La conformité combine, ainsi, trois composantes : préventive, curative et évolutive. ".
Pour l'Autorité de la concurrence, la "conformité" ou "compliance" (les deux termes étant pour elles synonyme, juste une question de traduction) est donc une sorte de voie d'exécution en Ex Ante : un moyen d'effectivité des règles de concurrence qui, plutôt que de prendre la forme de sanction Ex Post des violations commises par les entreprises, prend la forme Ex Ante d'une culture de concurrence développée par les entreprises elles-mêmes qui évitent, par divers moyens et pour diverses raisons, de commettre les manquements.
Dès lors, la Compliance fait totalement corps avec le Droit de la Concurrence ; c'est une sorte d'appendice, et rien de plus. Un peu comme l'on voyait il y a longtemps la procédure, "servante" des branches de Droit "substantielles" (c'est-à-dire nobles), comme le Droit public, le Droit des obligations, etc., chacune se reflétant dans son outil d'effectivité : le Droit public dans le Contentieux administratif, le Droit civil dans la Procédure civile, etc. Depuis quelques décennies, l'on ne pense plus ainsi.
En dehors même du fait que les branches du Droit qui donne aux règles leur effectivité, c'est-à-dire les procédures, sont depuis longtemps devenues autonomes, ont même été regroupées dans le "Droit processuel", le Droit de la Compliance est lui-même une branche du Droit qui n'est pas un ensemble de procédures d'effectivité : il est une branche du Droit substantiel.
Et il poursuit des buts qui lui sont propres.
C'est pourquoi il peut ne pas poursuivre les mêmes buts que le Droit de la Concurrence. Il vient alors non pas accroître par sa puissance la branche du Droit à laquelle il s'articule (ici les principes du Droit de la concurrence), mais au contraire équilibrer ces principes en confiant aux entreprises d'autres buts à atteindre.
🔴M.A. Frison-Roche, Droit de la concurrence et Droit de la compliance, 2018.
Les buts du Droit de la Compliance ne sont pas les mêmes que les buts du Droit de la Concurrence. Ils sont beaucoup plus ambitieux. Il y a notamment le climat. Si une Autorité de concurrence admet de prendre en considération la lutte effective contre la perspective de crise climatique catastrophique, alors elle intègre la logique du Droit de la Compliance, et notamment son premier principe qui est l'inverse du principe du Droit de la concurrence : l'impératif de s'allier avec d'autres dans la durée pour atteindre ce but.
La décision de l'Autorité de concurrence est exemplaire de cela. Elle valide par avance une infrastructure.
II. L'ENTENTE ENTRE DES ENTREPRISES POUR ATTEINDRE LE BUT MONUMENTAL DE L'ACTION CLIMATIQUE, VALIDÉE EX ANTE, EN ÉQUILIBRE DES PRINCIPES DU DROIT DE LA CONCURRENCE
Les 2 entreprises créent ensemble une activité qui est décrite et appréciée par l'Autorité en ces termes : "Shell and TotalEnergies wish to store CO2 in empty North Sea gas fields on a large scale. This is part of the Aramis project, in which the government, Gasunie and Energie Beheer Nederland work together with Shell and TotalEnergies in order to build a high-capacity trunkline that connects to empty gas fields, among other activities. Carbon capture and storage helps reduce CO2 emissions of businesses located in the Netherlands that, at the moment, still have few alternatives. Major investments are needed since it concerns a high-capacity trunkline and a new, innovative method. In order to get the project off the ground, Shell and TotalEnergies need to offer the CO2 storage together, and therefore jointly set the price with an eye to putting the first ±20% of the trunkline's capacity into operation. For the remaining 80%, no collective agreements will be made. Shell and TotalEnergies compete with one another. Collaborations between two competitors may negatively affect price, quality, and innovation, but that effect can be offset by certain benefits that a collaboration has for the customers of those businesses and for society as a whole. That is why the parties have asked ACM for informal guidance about whether their collaboration is compatible with the competition rules that offer an exemption to the prohibition to restrict competition if, in short, the benefits outweigh the costs.".
Ainsi, plutôt que faire les investissements conjoints en infrastructures, de faire fonctionner celles-ci et d'attendre une poursuite devant l'Autorité de concurrence pour entente en plaidant pour éviter la sanction le bénéfice social produit par cette collaboration dans cette infrastructure commune à travers la technique probatoire dite du "bilan", charge probatoire dont on connait la lourdeur et l'aléa, les autorités de concurrence prenant peu en considération ce bilan, souvent jugée trop politique et trop peu étayée économiquement (sur le droit positif, v. M.-A. Frison-Roche et J.-C. Roda, Précis Dalloz, Droit de la concurrence, 2022, n°452 et s.), les entreprises ont entrepris une démarche en Ex Ante.
Mais surtout les exemptions individuelles délivrées formellement au nom du Droit de la concurrence, telles que la Commission européenne le conçoit dans ses lignes directrices du 27 avril 2004 excluent de la mise en balance des considérations non-économiques et l'absence de prise en considération du souci climatique a été particulièrement critiquée.
L'on a pu ainsi anticiper la présente décision de l'Autorité néerlandaise de concurrence (M.-A. Frison-Roche et J.-C. Roda, Précis Dalloz, Droit de la concurrence, préc., n°454), du fait de la décision dite Shell rendue le 26 mai 2021 sur le terrain de la responsabilité civile par le Tribunal de La Haye.
III. LE DROIT DE LA COMPLIANCE, UN DROIT DE LA REGULATION A-SECTORIEL NE REQUERANT QU'UNE SUPERVISION
En effet et précisément, dans cet arrêt du 26 mai 2021, le Tribunal de La Haye a refusé de considérer que constituait une concurrence déloyale le fait d'imposer à Shell une obligation de réduire des émissions de CO2, même si cela freine sa croissance et que ses compétiteurs sur le marché du pétrole et du gaz n'y sont pas soumis car "l'intérêt servi par l'obligation de réduction l'emporte sur les intérêts commerciaux du groupe Shell...".
Le groupe Shell a donc une obligation d'action pour atteindre un intérêt qui le dépasse : un but monumental climatique, qui engendre à sa charge une Responsabilité Ex Ante.
🔴M.A. Frison-Roche, La Responsabilité Ex Ante, pilier du Droit de la Compliance, 2022.
Puisque le Droit de la Compliance impose aux entreprises de telles responsabilités, exige d'elles qu'elles prennent en charge de telles ambitions, détectent et préviennent de telles catastrophiques, alors implicitement, il leur confère les pouvoirs nécessaires pour le faire.
Cela serait inconcevable que les entreprises, obligées d'agir pour le climat, n'ont seulement n'aient pas le pouvoir de le faire, mais encore se voient interdire de le faire, par exemple par le Droit de la Concurrence. Cela est une conséquence directe du Principe de Proportionnalité, qui est au cœur du Droit de la compliance : l'entreprise ne doit certes pas avoir plus de pouvoir qu'il n'est nécessaire pour qu'elle atteigne le but qui lui est assigné, mais elle doit avoir tous les pouvoirs qui lui sont nécessaires pour cela.
🔴M.-A. Frison-Roche, Définition du Principe de proportionnalité et définition du Droit de la Compliance, in Les buts monumentaux de la Compliance, 2022
🔴M.-A. Frison-Roche, Concevoir le Pouvoir, 2021
Le Droit de la Compliance apparaît ici nettement puisqu'indépendamment des lignes directrices de 2004 de la Commission européenne qui n'admettent qu'un bilan concurrentiel, l'Autorité de concurrence prend ici directement appui sur l'initiative des entreprises qui s'associent structurellement pour atteindre un but climatique d'intérêt général.
En cela, et en Ex Ante, les entreprises mettent au point une infrastructure qui dans la durée va certes aller contre les principes de concurrence mais va tendre vers le But Monumental dont elles sont chargées, et pour Shell cette charge repose expressément sur elle puisque par ailleurs une juridiction le lui a expressément rappelé en refusant justement de faire jouer à son bénéfice la protection du Droit de la concurrence déloyale !
Ainsi, le Droit de la Compliance est ici illustré en ce qu'il est le prolongement du Droit de la Régulation.
🔴M.A. Frison-Roche, Du Droit de la Régulation au Droit de la Compliance, in Régulation, Supervision, Compliance, 2017
Ce mouvement va se renforcer, le Droit de la Compliance se plaçant au centre du Droit économique, laissant aux entreprises le soin, l'obligation, le pouvoir, de prendre des initiatives à long terme pour viser des buts d'intérêt général global, sous la supervision Ex Ante puis en continu des Autorités publiques.
________