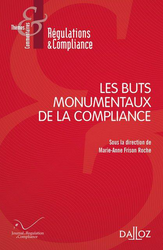 ► Full Reference: B. Deffains, "L'enjeu économique de compétitivité internationale de la compliance" ("The economic challenge of international competitiveness of Compliance"), in M.-A. Frison-Roche (ed.), Les Buts Monumentaux de la Compliance, coll. "Régulations & Compliance", Journal of Regulation & Compliance (JoRC) and Dalloz, 2022, p. 355-366.
____
📕read a general presentation of the book, Les Buts Monumentaux de la Compliance, in which this article is published
____
► Summary of the article (done by the Author, translated by the Journal of Regulation & Compliance) : "Compliance", which can be define as obedience to the regulations is a stake for the company in that it can choose as a strategy to do it or not to do it, according to what costs it and brings it such a choice. This same choice of understanding is offered to the author of the norm, the Legislator or the Judge, even the entire legal system making regulation more or less expensive, and compliance with it for businesses. So when the French law known as "Vigilance law" was adopted in 2017, the French Parliament was criticized for dealing a blow to the "international competitiveness" of French companies. "Today, it is on its model that the European Directive is conceived. The extraterritoriality attached to Compliance Law, often presented as an economic aggression, is nevertheless a consubstantial effect, with its desire to claim to protect beyond borders. , coming us back to a classic question in Economics: what is the price of virtue?
To fuel a debate that began a few centuries ago, it is on the side of the issues that the analysis must be made economically. Indeed, Compliance Law is not only located in Ex Ante, to prevent, detect, remedy, reorganize the future, but also claims to face more "monumental" difficulties than traditional branches of Law. And it is concretely by examining the new instruments that Compliance Law has put in place and offered or imposed on companies that the question of international competitiveness must be examined. The mechanisms of information, secrecy, accountability or responsibility, which have a great effect on the international competitiveness of companies and systems, have changed and their measure has not yet been taken.
________