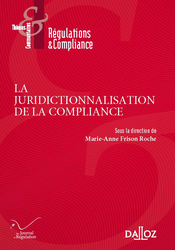 ♾️ suivre Marie-Anne Frison-Roche sur LinkedIn
♾️s'abonner à la Newsletter MAFR Regulation, Compliance, Law
____
► Full Reference: Frison-Roche, M.-A., " "Le juge, l'obligation de compliance et l'entreprise. Le système probatoire de la Compliance" (), in M.-A. Frison-Roche, M.-A. (ed.), La juridictionnalisation de la Compliance, series "Régulations & Compliance", Journal of Regulation & Compliance (JoRC) and Dalloz, to be published.
____
► English Summary of the article:
l'article vise à dégager le lien qui doit s'opérer entre l'entreprise dans son rapport avec les obligations de compliance qu'elle assume et les juges devant lesquels elle rend compte à ce titre : ce lien est opéré par le jeu des preuves. Or le système probatoire de la preuve est encore à construire, c'est l'objet de cette longue étude que d'en poser les prolégomènes.
A cette fin l'article débute par une description de ce qui est désigné comme le "carré probatoire" dans un "système probatoire" qui se superpose au système des règles de droit substantiel. Cela est d'autant plus important que la Compliance semble être en choc frontal dans ses principes mêmes avec les principes généraux du système probatoire, notamment parce qu'il semble que l'entreprise devrait prouver l'existence du Droit ou qu'elle devrait supporter d'une façon définitive la charge de prouver l'absence de violation, ce qui paraît contraire non seulement à la présomption d'innocence mais au principe de la liberté d'action et d'entreprendre. Pour réarticuler le Droit de la Compliance, les obligations de compliance qui légitimement pèsent sur l'entreprise, il faut revenir sur le système probatoire spécifique à la Compliance, pour que celle-ci demeure dans l'Etat de Droit. Cela suppose que l'on adopte une définition substantielle de la Compliance, qui ne soit pas seulement le respect des règles, ce qui n'est qu'une dimension minimale, mais que l'on définisse le Droit de la Compliance par les Buts Monumentaux sur lesquels d'une façon substantielle les Autorités publiques et les entreprises font alliance.
Le système probatoire de principe fait jouer entre eux ses quatre sommets que sont la charge des preuves, les objets de preuve ce carré probatoire de principe, entre la charge de preuve, les moyens de preuve et leur recevabilité. Le Droit de la Compliance ne sort pas de ce carré probatoire, marquant en cela sa pleine appartenance à l'Etat de Droit
Pour pose les bases du système probatoire spécifique au Droit de la Compliance la première partie de l'article cerne les objets de preuve qui lui sont spécifiques, en distinguant les dispositifs structurels, d'une part et les comportements attendus d'autre part. Les premiers impliquent que soit prouvée la mise en place effective des structures requis au regard des Buts Monumentaux de la Compliance. L'objet de preuve est alors l'effectivité de cette mise en place, ce qui présente l'efficacité du dispositif. En ce qui concerne les obligations comportementales, l'objet de preuve est dans les efforts déployés par l'entreprise pour obtenir ceux-ci, le principe de proportionnalité gouvernant l'établissement de cette preuve, tandis que l'efficience systémique de l'ensemble conforte le dispositif probatoire. Mais la sagesse probatoire consiste pour l'entreprise, alors même que le principe demeure celui de la liberté de la preuve, à préconstituer l'effectivité, l'efficacité et l'efficience de l'ensemble, indépendamment des charges de preuve.
La deuxième partie de l'article vise ceux qui supportent la charge de preuve en Droit de la Compliance. Celui-ci fait porter par principe ce poids sur l'entreprise, au regard de ses obligations légales. Cette charge vient de l'origine légale des obligations, laquelle bloque la "ronde des charges de preuve". Mais dans l'interférence des différents sommets du carré probatoire, la question devient plus délicate lorsqu'il s'agit de déterminer les contours des obligations de compliance que l'entreprise doit exécuter. En outre, la charge de preuve peut elle-même faire l'objet de preuve, comme l'exécution par l'entreprise de ses obligations légales peut elle-aussi faire l'objet de contrats, ce qui fait revenir dans le système probatoire ordinairement applicable aux obligations contractuelles. La situation est d'ailleurs différente lorsqu'il s'agit d'un "contrat de compliance" ou lorsqu'il s'agit d'une ou de plusieurs stipulations de compliance, notions encore peu élaborées en Droit des contrats.
En outre, toutes les branches du Droit appartenant à un système juridique gouvernant par le principe de l'Etat de Droit, d'autres branches du Droit interfèrent et modifient les méthodes et solutions probatoires. Il en est ainsi lorsque le fait, qui est objet de preuve, peut donner lieu à sanction, le Droit de la répression imposant ses solutions propres en matière de charge de preuve.
Dans une troisième partie de l'article, sont examinés les moyens de preuve pertinents en Droit de la Compliance, utilisés en ce que le Droit de la Compliance est avant tout une branche du Droit dont l'objet est d'une part l'information et d'autre part l'Avenir. Des questions ouvertes demeurent, comme celle de savoir si les entreprises pourraient être contraintes par le Juge à construire des technologies pour inventer de nouveaux moyens de preuve pour donner à voir qu'elles concrétisent effectivement les Buts Monumentaux dont elles sont chargées.
Dans une quatrième partie, est montrée le caractère vital de la préconstitution des preuves, qui est le reflet de la nature Ex Ante du Droit de la Compliance : il faut préconstituer des preuves pour écarter la perspective même d'avoir à les utiliser, en trouvant tous les moyens d'établir l'effectivité, l'efficacité, voire l'efficience des différents Outils de la Compliance.
Si les entreprises font tout cela avec méthode, le système probatoire de la Compliance sera établi, en harmonie à la fois avec le système probatoire général, le Droit de la Compliance et l'Etat de Droit.
____
🚧read the Bilingual Working Paper which is the basis of this article.
____
📕 read the general presentation of the book, La juridictionnalisation de la Compliance, in which this article is published.
_______