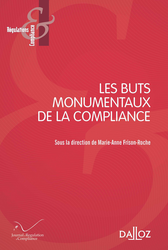 ♾️follow Marie-Anne Frison-Roche on LinkedIn
♾️subscribe to the Newsletter MAFR Regulation, Compliance, Law
____
► Full Reference: M.-A. Frison-Roche, "Les Buts Monumentaux, cœur battant du Droit de la Compliance" ("Monumental Goals, beating heart of Compliance Law"), in M.-A. Frison-Roche (ed.), Les Buts Monumentaux de la Compliance, coll. "Régulations & Compliance", Journal of Regulation & Compliance (JoRC) and Dalloz, 2022, p. 21-44.
____
📝read the article (in French)
____
🚧read the bilingual Working Paper which is the basis of this article, with additional developments, technical references and hyperlinks
____
📕read a general presentation of the book, Les Buts Monumentaux de la Compliance, in which this article is published
____
► Summary of the article: Compliance Law can be defined as the set of processes requiring companies to show that they comply with all the regulations that apply to them. It is also possible to define this branch of Law by a normative heart: the "Monumental Goals". These explain the technical new legal solutions, thus made them clearer, accessible and anticipable. This definition is also based on a bet, that of caring for others that human beings can have in common, a universality.
Through the Monumental Goals, appears a definition of Compliance Law that is new, original, and specific. This new term "Compliance", even in non-English vocabulary, in fact designates a new ambition: that a systemic catastrophe shall not be repeated in the future. This Monumental Goal was designed by History, which gives it a different dimension in the United States and in Europe. But the heart is common in the West, because it is always about detecting and preventing what could produce a future systemic catastrophe, which falls under "negative monumental goals", even to act so that the future is positively different ("positive monumental goals"), the whole being articulated in the notion of "concern for others", the Monumental Goals thus unifying Compliance Law.
In this, they reveal and reinforce the always systemic nature of Compliance Law, as management of systemic risks and extension of Regulation Law, outside of any sector, which makes solutions available for non-sector spaces, in particular digital space. Because wanting to prevent the future (preventing evil from happening; making good happen) is by nature political, Compliance Law by nature concretizes ambitions of a political nature, in particular in its positive monumental goals, notably effective equality between human beings, including geographically distant or future human beings.
The practical consequences of this definition of Compliance Law by Monumental Goals are immense. A contrario, this makes it possible to avoid the excesses of a "conformity law" aimed at the effectiveness of all applicable regulations, a very dangerous perspective. This makes it possible to select effective Compliance Tools with regard to these goals, to grasp the spirit of the material without being locked into its flow of letters. This leads to not dissociating the power required of companies and the permanent supervision that the public authorities must exercise over them.
We can therefore expect a lot from such a definition of Compliance Law by its Monumental Goals. It engenders an alliance between the Political Power, legitimate to enact the Monumental Goals, and the crucial operators, in a position to concretize them and appointed because they are able to do so. It makes it possible to find global legal solutions for global systemic difficulties that are a priori insurmountable, particularly in climate matters and for the effective protection of people in the now digital world in which we live. It expresses values that can unite human beings.
In this, Compliance Law built on Monumental Goals is also a bet. Even if the requirement of "conformity" is articulated with this present conception of what Compliance Law is, this conception based on Monumental Law is based on the human ability to be free, while conformity law supposes more the human ability to obey.
Therefore Compliance Law, defined by the Monumental Goals, is essential for our future, while conformity law is not.
________