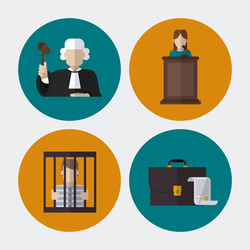 The power to "settle disputes" is usually less held by the Regulator than is the power to sanction. Indeed, if we can say that a Regulator without the power to sanction effectively loses his grip on the sector, a Regulator does not necessarily need to settle disputes to hold his sector. It is no less important.
Indeed, settling a dispute consists in settling an opposition of interest between two legal persons who are expressly opposed. This transforms the Regulator into a sort of "civil judge", while the power of sanction makes him look like a sort of "criminal judge".
With regard to the sector, the discipline of this one may require more that the Regulator punishes the breaches and punish the operators who do not respect the standards that it has decreed, more than it comes to separate the operators who quarrel among themselves. for personal interests. However, almost all regulators, except the Autorité des marchés financiers (AMF) (French Financial Regulator), have the power to settle certain types of dispute between operators, for example between the operator of a network and the one who wants to access it, when the manager refuses access or demands a price that is estimated to be too high or requires technical adjustments from his co-contractor. The regulator then intervenes as a sort of civil court which settles the dispute between the parties, outside any idea of ​​administrative police, and it is logically that this type of decision can be challenged before the Cour d'Appel de Paris, judicial judge.
This can be explained by what has been called the "civilization" of economic law, its progress causing it to leave the archaic violence of repression. This is also due to the fact that, by exercising this power, the operators provide information to the Regulator if it lacks it, encouraged to do so by the fact that their interests are thus directly protected, and the fact that through this the Regulator watches over the keys of the sector itself. For example, by settling a dispute over the right of access, it makes the interconnection effective, that is to say what the Regulation is objectively put in place.
Thus, even if from a procedural point of view when the Regulator settles a dispute between an operator or sanctions an operator for non-compliance, it acts as a Court and logically receives the qualification, thus being legitimately by the procedure, in particular the fundamental guarantees of parties which it must respect, it uses its power to settle disputes and to sanction in an office which remains of regulation, which continues in substance to distinguish it from an administrative or judicial jurisdiction.