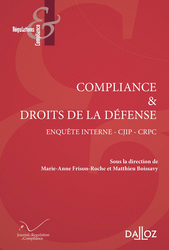 ► Référence complète : S-M.. Cabon, "Théorie et pratique de la négociation dans la justice pénale", in M.-A. Frison-Roche & M. Boissavy (dir.), Compliance et Droits de la défense - Enquête interne, CIIP, CRPC, Journal of Regulation & Compliance (JoRC) et Dalloz, coll. "Régulations & Compliance", à paraître.
____
📕consulter une présentation générale de l'ouvrage, Compliance et Droits de la défense - Enquête interne, CIIP, CRPC, dans lequel cet article est publié
____
► Résumé de l'article (fait par le Journal of Regulation & Compliance - JoRC) : L'auteure définit la technique de "négociation" comme celle par laquelle "chaque interlocuteur va tenter de rendre compatibles par un jeu de coopération et de concessions mutuelles", ce qui va donc être utilisé dans la justice pénale française non pas tant par attraction du modèle américain, mais pour tenter de résoudre les difficultés engendrées par le flux des contentieux, le procédé s'étant élargi aux contentieux répressif, notamment devant les autorités administratives de régulation. Le principe en est donc la coopération du délinquant.
L'auteur souligne les satisfactions "pratiques" revendiqués, puisque les cas sont résolus, les sanctions sont acceptées, et les inquiétudes "théoriques", puisque des principes fondamentaux semblent écartés, comme les droits de la défense, l'affirmation étant faite comme quoi les avantages pratiques et le fait que rien n'oblige les entreprises à accepter les CJIP et les CRPC justifient que l'on ne s'arrête pas à ces considérations "théoriques".
L'article est donc construit sur la confrontation de "l'Utile" et du "Juste", parce que c'est ainsi que le système est présenté, l'utilité et le consentement étant notamment mis en valeur dans les lignes directrices des autorités publiques.
Face à cela, l'auteur examine la façon dont les textes continuent, ou pas, de protéger la personne qui risque d'être in fine sanctionnée, notamment dans les enquêtes et investigations, le fait qu'elle consente à renoncer à cette protection, notamment qu'elle apporte elle-même les éléments probatoires de ce qui sera la base de sa déclaration de culpabilité tandis que l'Autorité publique ne renonce pas encore au même moment à la poursuite étant problématique au regard du "Juste".
La seconde partie de l'article est donc consacrée à "l'Utile contraint à être Juste". A ce titre, l'auteur pense que l'indépendance du ministère public devrait être plus forte, à l'image de ce qu'est le Parquet européen, et le contrôle du juge judiciaire plus profond car la procédure actuelle de validation des CJIP semble régie par le principe dispositif, principe qui ne sied pas à la justice pénale.
________