ComplianceTech ®. Pour lire cette fiche en français, cliquez sur le drapeau français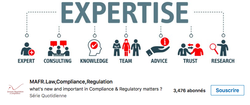 Full reference: Frison-Roche, M.-A., For regulating or supervising, technical competence is required: example of the French creation of the "Pôle d'expertise de la régulation numérique"​, Newsletter MAFR - Law, Regulation, Compliance, 2nd of September 2020
Lire par abonnement gratuit d'autres news de la Newsletter MAFR - Law, Regulation, Compliance
Summary of the news
Through a decree of 31st of August 2020, the government created a national service, the "Pôle d'expertise de la régulation numérique" (digital regulation expertise pole). It has to furnish to State services a technical expertise in computer science, data science and algorithm processes in order to assist them in their role of control, investigation and study. The aim is to favor information sharing between researchers and State services in charge of regulating digital space.
As its acronym indicates, this pole of expertise aims to represents constance in a changing world. Moreover, more than being a national service, this organism must adopt a transversal dimension, its creation decree being signed by the Prime Minister, Minister of Economy, Minister of Culture and Minister of Digital Transition. The creation of such a pole shows the awareness of the government of the importance of technical competency in the regulation of digital space and of the necessity to centralize these expertises in one organ.
However, as the decree indicates, this pole of expertise could be consulted only by "State services", that excludes regulators which are independent from the State and which could put the pole in conflict of interest, and courts even if they are supposed to play a central role in the regulation of digital space and even if they are allowed to ask the advice of the regulator about some cases. But if regulators cannot size the pole, to whom does it benefit except the legislator and a few officials?
It would therefore have been better for this pole of expertise to be placed under the direction of regulatory and supervisory bodies, which would have enabled it to be able to be consulted both by regulators and by judges, both of whom are key players in digital regulation.