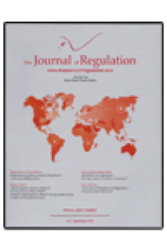 Référence complète : FRISON-ROCHE, Marie-Anne, The auditor, a crucial player on financial markets, The Journal of Regulation, n°6, January / February 2011, I-1.26, p.470-479.
Cet article est écrit en anglais.
La Commission européenne par un Livre Vert d'octobre 2010 envisage une nouvelle politique de l'audit pour favoriser la stabilité financière. Pour cela, elle dessine le rôle de l'auditeur sur les marchés financiers, allant jusqu'à lui demande de prévenir les investisseurs des risques financiers que présentent les émetteurs. Mais l'auditeur a un rôle de certification des comptes, ce qui doit en être distinguer et cette "attente de marché" doit être satisfaite par d'autres, comme les agences de notation. Cependant, l'auditeur est un agent "crucial", en ce que son action est déterminante pour les investisseurs. Mais il n'est pas pour autant "systémique" et ne s'assimile en rien à une banque, puisque sa défaillance n'entraine pas d'effet domino. En outre, parce qu'il est crucial, l'ouverture forcée du marché de l'audit à plus de concurrence fragiliserait la bonne réalisation de son rôle dans le système. Cela est une nouvelle illustration de l'opposition entre la concurrence et la régulation.