SCEMLA, Sophie🕴️ et PAILLOT, Diane🕴️
pour lire cette présentation en français ↗️ cliquer sur le drapeau français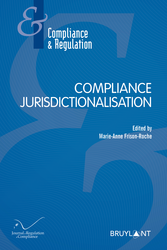 ► Full Reference: S. Scemla & D. Paillot, "The difficulty for Compliance Enforcement Authorities to comprehend the Rights of the Defence in compliance matters", in M.-A. Frison-Roche (ed.), Compliance Jurisdictionalisation, Journal of Regulation & Compliance (JoRC) and Bruylant, coll. "Compliance & Regulation", to be published.
____
📘read a general presentation of the book, Compliance Jurisdictionalisation, in which this article is published
____
► Summary of the article (done by the Authors): Since 2016, French companies subject to the provisions of the so-called "Sapin 2" Law must implement eight stringent anti-corruption measures, such as a risk mapping, a whistleblowing procedure or a third-party due diligence procedure.
To ensure their compliance with these obligations, the Sapin 2 law created the Agence française anticorruption - AFA (French Anti-Corruption Agency), which had been assigned three missions: firstly, to help any person prevent and detect corruption; secondly, to control the quality and effectiveness of the anti-corruption programs deployed by the companies; and thirdly, to sanction any breaches, through its Sanctions Committee.
As pointed out by the French Conseil d'Etat, the powers devolved to the administrations have multiplied and became stratified. While the Conseil d'Etat suggests to improve both the conduct and the effectiveness of administrative controls by harmonising their practices and simplifying their prerogatives, it is urgent to remedy the numerous procedural failures that undermine the rights of defence.
In fact, the AFA exercises various powers when undertaking its controls. Some of these powers are not provided for by the Law, and most of them infringe fundamental rights and freedoms among which the adversarial principle and the freedom not to self-incriminate. For instance, the AFA does not necessarily draft minutes of the interviews it conducts, thus depriving the interviewee of the possibility to challenge the statements reported by the AFA to the Sanctions Committee.
From a more structural point of view, the scope of the AFA's mission is extremely broad. The Law allows the AFA to request the communication of "any professional document or any useful information", without defining the notion of usefulness. Also, the AFA considers that the entity cannot benefit from the legal privilege that would cover their documents, and considers that an entity who voluntarily hands over a document, without expressing any reserves, waives its right to the benefit of its legal privilege.
Apart from the severe consequences that could arise if another proceedings was to be initiated by a foreign authority, the concept of "voluntary handover" does not faithfully reflect the reality. Indeed, the controlled entities only cooperate under the threat of being prosecuted on the basis of an obstruction to the control, which compels them to communicate documents even when facing the risk of contributing to their own incrimination.
These many procedural deficiencies encountered during AFA controls must therefore be reformed, as recommended by the Conseil d'Etat, so as to require the authorities to take into account the rights of the defence.
____
🦉This article is available in full text to those registered for Professor Marie-Anne Frison-Roche's courses
__________