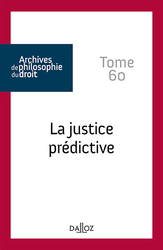 Complete reference: Archives de Philosophie du droit (APD), La justice prédictive, tome 60, ed. Dalloz, 2018, 398 p.
___________
The idea of ​​prediction applied to court decisions has long been claimed by the great American legal theorists. However, the power of computer processing and artificial intelligence now make it credible on a large scale. If judicial decisions and through them the behavior of individuals or companies are massively analyzed, structured, correlated, will not the legislator, judges, experts and investigators be encouraged to respect these new "digital standards" and the litigants tempted to avoid the "case lawsuit" by negotiation by mutual agreement on platforms?
This volume brings together more than twenty contributions from academics and practitioners, civil and administrative magistrates, lawyers, entrepreneurs, who refocus the concept of predictive justice, show its theoretical and practical limits but also outline the opportunities, under certain conditions. specific legal and technical aspects specific to each branch of law, offered by the mass processing of legal data for a more efficient and fairer law and justice.
Read summaries of articles in English.
Consult the article of Marie-Anne Frison-Roche, Pour protéger les êtres humains, l'impératif éthique de la notion juridique de personne.
See the presentation of other volumes from the Archives of Philosophy of Law.