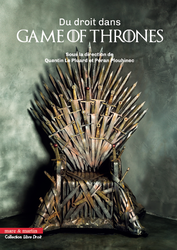 Référence complète : Frison-Roche, M.-A., Game of Thrones : un droit si classique. Pour l'instant, in Le Pluard, Q., et Plouhinec, P., (dir.), Du droit dans GAME OF THRONES, 2019, pp. 19-34.
Résumé. Dans cette série emplie de surprises grandioses, de personnages épiques, de retournements, et ce d'autant plus qu'elle se mit à courir plus vite que le livre dont elle naquit, on semble ne trouver que ce que l'on connaît déjà du Droit : il suffirait de soulever les déguisements, comme on le fait dans une fable. On y retrouve alors les règles juridiques classiques (I), la reproduction en décalque de l'organisation juridique féodale (II), parfois contestée au nom de principes exogènes (III). Mais il est remarquable que la série ne soit pas encore finie. Or, ce qui va arriver ne renvoie-t-il pas à des problématiques juridiques que nous ne maîtrisons pas nous-mêmes ? Saison inconnue au sens plein du terme, terrain juridique glacé et sol incertain d'un Droit qui prendrait la forme des "sans-visages" et des "morts qui marchent" ? (IV).
Consulter une présentation générale de l'ouvrage.
Lire le document de travail ayant servi de base à l'article publié, document de travail bilingue comprenant des notes de bas de page, des références techniques et de liens hypertextes.