pour lire cette présentation en français ↗️ cliquer sur le drapeau français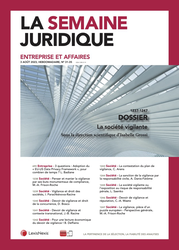 ♾️follow Marie-Anne Frison-Roche on LinkedIn
♾️subscribe to the Newsletter MAFR Regulation, Compliance, Law
____
► Full Reference: M.-A. Frison-Roche, "Penser et manier la vigilance par ses buts monumentaux de compliance" ("Thinking and using Vigilance through its Compliance Monumental Goals"), in I.Grossi (ed.), La société vigilante, JCP E, No. 31-35, 3 August 2023, pp.16-20.
____
📙this article is the introduction of this special issue.
It is linked to the concluding article of this special issue: 📝La vigilance, pièce d'un puzzle européen (Vigilance, a piece of the European puzzle)
____
🧮the 2 articles follow on from the introductory and concluding speeches in the colloquium La Société vigilante, held at the University of Aix Marseille on 24 March 2023
____
🚧read the bilingual Working Paper which is the basis of this article, with additional developments, technical references and hyperlinks
____
► Summary of the article: The concept of "Vigilance" is difficult to define. Probably because even as it is becoming a standard, it has just entered the legal systems. And what a splash it is! To understand it, it must not be isolated. Neither in the only French law attracting all the attention, all the fears, all the hopes, the so-called Loi Vigilance ("Vigilance Law"), nor in the only technical mechanisms that make Vigilance a reality.
Vigilance is itself only a part of a deeper movement, of which it is the advanced point, allowing us to anticipate the evolution of the whole: Compliance Law.
In this light and for not getting lost in it, because the stakes are so high that one quickly loses the measure of things, with each party lashing out at the others, so Vigilance, the key element of Compliance, requires above all alliances, that we can first examine the entry of Vigilance into the legal system and then understand it through the Monumental Goals which give the measure of it, i.e. both the scope and the limit, each one having to act within the margins that are theirs, States, companies, stakeholders, and judges.
A Will for tomorrow can then emerge today, carried by Europe.
____
📝read the article (in French)
________