pour lire cette présentation en français ↗️ cliquer sur le drapeau français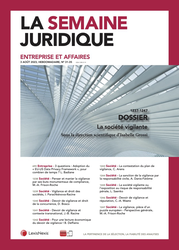 ♾️follow Marie-Anne Frison-Roche on LinkedIn
♾️subscribe to the Newsletter MAFR Regulation, Compliance, Law
____
► Full Reference: M.-A. Frison-Roche, "La vigilance, pièce d'un puzzle européen" ("Vigilance, a piece of the European puzzle"), in I.Grossi (ed.), La société vigilante, JCP E, No. 31-35, 3 août 2023, pp.57-58.
____
📙this article is the conclusion of this special issue.
It is linked to the introductory article of this special issue: 📝Penser et manier la vigilance par ses buts monumentaux de compliance (Thinking and using Vigilance through its Compliance Monumental Goals)
____
🧮the 2 articles follow on from the introductory and concluding speeches in the colloquium La Société vigilante, held at the University of Aix Marseille on 24 March 2023
____
🚧read the bilingual Working Paper which is the basis of this article, with additional developments, technical references and hyperlinks
____
► Summary of the article: The contributions form a contrasted whole. It should not be concluded that some of them are correct and others false: through the reading that each one makes of the so-called French 2017 "Vigilance law," it is a vision of the world as it should be that each author proposes. Because Compliance Law, which Vigilance is a part, claims to draw the future, it is normal that each author should draw the present Law with a hand that bends in one direction or the other, following their conception of the future world. The whole contributions must be seen as a dialogue.
A lively dialogue, with this French 2017 law receiving a lot of "glory" and a lot of "indignity" on both sides, from which it is necessary to emerge in order to find solutions, because it is a fundamental movement of which this law is only a gateway (I). Whatever one thinks of it, it is all the branches of law that are used, affected, and transformed by Vigilance (II). To master this profound transformation, we must turn to Europe, to the great puzzle of texts recently adopted or in the process of being adopted in the European Union, of which Vigilance is the hallmark (III).
____
📝read the article (in French)
________