ComplianceTech ®. Pour lire cette fiche en français, cliquez sur le drapeau français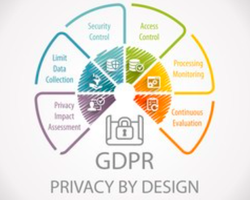 Full reference: Frison-Roche, M.-A., Compliance by Design, a new weapon? Opinion of Facebook about Apple new technical dispositions on Personal Data protection, Newsletter MAFR - Law, Compliance, Regulation, 31st of August 2020
Read by freely subscribing other news of the Newsletter MAFR - Law, Compliance, Regulation
Summary of the news:
Personal Data, as they are information, are Compliance Tools. They represent a precious resource for firms which must implement a vigilance plan in order to prevent corruption, money laundering or terrorism financing, for examples. It is the reason why personal data are the angular stone of "Compliance by design" systems. However, the use of these data cannot clear the firm of its simultaneous obligation to protect these same personal data, that is also a "monumental goal" of Compliance Law.
In order to be able to exploit these data in an objective of Compliance and protecting them in the same time, the digital firm Apple adopted for example new dispositions in order to the exploitation of the Identifier For Advertisers (IDFA) integrated in the iPad and in the iPhone and broadly used by targeted advertising firms, is conditioned to the consumer's consent.
Facebook reacted to this new disposition explaining that such measures will restrict the access to data for advertisers who will suffer from that. Facebook suspects Apple to block the access to advertisers in order to develop its own advertising tool. Facebook guaranteed to advertisers who work with it that it will not take similar measures and that it will always favor consultation before decision making in order to concile sometimes divergent interests.
We can sleep and already make some remarks:
GDPR imposing to companies that they guarantee a minimal level of protection for personal data does not apply in the United-States. It is then possible that Apple acted through Corporate Social Responsibility (CSR), more than through legal obligation.
The mode of regulation used here is the "conversational regulation" theorized by Julia Black. Indeed, regulators let the forces in presence discuss.
This "conversational regulation" does not seem to be very efficient in this case and an intervention of administrative authorities or of judges could be justified via Competition Law, Regulation Law or Compliance Law, knowing that Competition Law will favor access right to information and Regulation or Compliance Law private life right.
The whole paradox of Compliance Law rests in the equilibrium between circulation of information and secret.