pour lire une présentation partiellement en français⤴️cliquer sur le drapeau français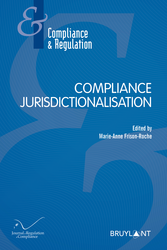 ► Full Reference: F.-X. Train, "Arbitration and parallel proceedings exercised in Compliance Procedure", in M.-A. Frison-Roche, M.-A. (ed.), Compliance Jurisdictionalisation, series "Compliance & Regulation", Journal of Regulation & Compliance (JoRC) and Bruylant, to be published.
___
► the summary below describes the article that follows an intervention in the scientific manifestation Compliance et Arbitrage, co-organised by the Journal of Regulation & Compliance (JoRC) and the University Panthéon-Assas (Paris II). This conference was designed by Marie-Anne Frison-Roche and Jean-Baptiste Racine, scientific co-directors, and took place in Paris II University on March 31, 2021.
In the book, the article will be published in the Chapter III, devoted to: Compliance et Arbitrage international.
___
► Article Summary: Firstly, the article insists on the principle of the autonomy of the international arbitration procedure, in relation to which parallel procedures remain watertight, whether they are criminal or done under Compliance Law. In the arbitral proceedings taking place independently, the arbitrators before whom the facts also referred to in these parallel proceedings, in particular the facts of corruption, are alleged before them as facts through their unlawful nature: it is at this title that they can and must apprehend them, using the standard of proof which is the bundle of clues.
Secondly, the article highlights the limits of the autonomy of international arbitration. These may be de facto limits because in the search for evidence by arbitrators, red flags are often insufficiently consistent evidence to establish a sentence, especially since this sentence may be subject to control by the judge of its conformity to international public order, the annulment by the judge being able to be based on external elements, even after the arbitration procedure. It may then be wise for the arbitrators, who are not forced to do so, to suspend their proceedings to wait the results of the parallel proceedings initiated under Compliance Law, so that the procedures and their results could be harmonious.
____
📘 read the general presentation of the book, Compliance Jurisdictionalisation, in which this article is published
__________