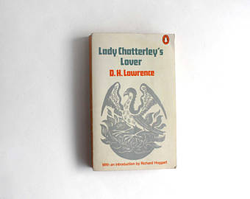 Dans un article du 3 novembre du site The Conversation, est remis en lumière la valeur de l'exemplaire annoté par le juge qui eût à connaître du cas "The Lady Chatterley's Lover" : les pages de l'ouvrage sont recouverts d'annotations du juge, Mr Lawrence Byrne, qui présida le Tribunal saisi en raison du caractère "obscène" de ce livre.
Comme quoi l'aspect juridique l'emporte sur l'aspect littéraire, c'est le département de Droit et non de Littérature de l'Université de Bristol qui acquit en 2019 "l'exemplaire du juge.
Le Tribunal avait été saisi sur le fondement de la loi Obscene Publication Act de 1959.
Cette loi définit l'obscénité si les effets de la publication, pris dans son ensemble, sont de nature à dépraver ou à corrompre les personnes susceptibles de la lire, la voir ou l'entendre ("its effect, taken as a whole, was such as to tend to deprave and corrupt persons who were likely to read, see or hear it"), ce qui constitue un "publishing offence" et justifie notamment la saisie de la publication, sauf à démontrer l'intérêt public ("public good defence") justifiant la publication "in the interests of science, literature, art or learning, or of other objects of general concern".
L'article raconte que dans ce procès, constituant la première application de cette loi, la Couronne affirmait que le livre était "obscène" et appela à la barre un témoin, tandis que l'éditeur affirmait que la qualité artistique de l'oeuvre excluait toute condamnation, s'appuyant donc sur "the interests of literature" et appela à la barre 35 personnalités, notamment des auteur et des universitaires, pour se prévaloir des mérites littéraires du livre. .Le jury acquitta l'éditeur.
L'Exemplaire du Juge ou l'Exemplaire de l'épouse du Juge ?
Le juge et les jurés peuvent lire le livre (avec interdiction de l'emporter chez eux le soir...) tel que certains purent le lire dès les années 40...
Il apparaît que des exemplaires de l'ouvrage furent distribués au juge et aux jurées et qu'en ce qui concerne l'exemplaire du Juge, c'est l'épouse de celui-ci qui a rédigé les différentes notes manuscrites insérées dans l'ouvrage, le couple travaillant ensemble, à tel point qu'il convient de parler plutôt de "l'exemplaire de Lady Byrne".
Après le procès qui a eu lieu en 1960, la famille du juge Byrne a vendu aux enchères l'exemplaire du Juge en 1993, puis en 2018 à un acheteur américain, ce à quoi le Royaume-Uni s'opposa par un "temporary export deferral", tandis que l'Université de Bristol manifestait son intention d'acquérir l'exemplaire du Juge.
_____