PEICUTI, Cristina🕴️ et BEYSSADE, Jacques🕴️
pour lire cette présentation en français ↗️ cliquer sur le drapeau français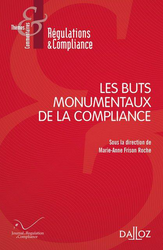 ► Full Reference: C. Peicuti et J. Beyssade, "La féminisation des postes à responsabilité dans les entreprises comme but de la compliance. Exemple du secteur bancaire" ("The feminization of responsibility positions in companies as a Compliance Goal. Example of the banking sector"), in M.-A. Frison-Roche (ed.), Les Buts Monumentaux de la Compliance, coll. "Régulations & Compliance", Journal of Regulation & Compliance (JoRC) and Dalloz, 2022, 109-124.
____
📕read a general presentation of the book, Les Buts Monumentaux de la Compliance, in which this article is published
____
► Summary of the article (done by the Journal of Regulation & Compliance): If the Compliance techniques are conceived as taking their meaning by their Goal, the latter being in particular the protection and the effective promotion of human beings, to be reinforced in the future thanks to Compliance Law tools, the example of the effective promotion of efficient equality between women and men in the banking sector to exercise responsible functions is clear.
strongly feminized, the image of banking sector remains masculine and in fact too few women exercise positions of responsibility, although no text is opposed to it and all rights have been allocated for this. To move from this situation to a future where equality will be effective, it is therefore in terms of regulatory mechanisms that we should think of the necessary transformation and even more of "transition" so that one day a de facto equality will be established. and appears natural to all.
The bank must then structurally integrate this Goal, which corresponds to the definition of Compliance. To do this, the banking company is part of a long-term voluntary Compliance process, relying in particular on human resources and on the public authorities of the European Banking Union which, by further implementing the concept of sustainable economy, facilitated this long-term action. In this transition, each action and result must be considered in relation to this sought-after goal of effective equality: each progress must be valued not so much in relation to the past but in relation to the future. This Ex Ante perspective justifies these self-binding Compliance techniques, such as plans, commitments, quotas, stakeholder implications, and more flexible techniques such as examples given by managers, internal training and joint affirmations with the public authorities, are all used by the company to achieve this Monumental Goal of effective equality between human beings.
The banking sector is all the more exemplary for this because the banking authorities themselves deploy incentives in this direction, the definition of Compliance Law as an alliance between the Authorities and the Companies therefore corresponding to such an action clearly in progress, structurally in the BPCE group.
________