Direction of the collection : 📚Cours Dalloz-Série Droit privé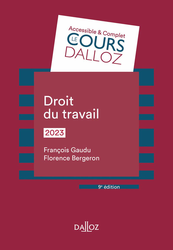 ► Référence générale : F. Gaudu et F. Bergeron-Canut, Droit du travail, Dalloz, coll. "Cours Dalloz-Série Droit privé", 10ième éd., 2024, 686 p.
____
► Présentation de l'ouvrage : Ce manuel à jour des derniers textes s'adresse à tous les étudiants en droit et à tous les praticiens qui actualisent leurs connaissances.
Il développe dans une première partie les " relations individuelles de travail " (formation du rapport contractuel, exécution et rupture du contrat de travail), pour consacrer sa seconde partie aux " relations collectives de travail ", (conflits collectifs du travail, représentation et la négociation collective et convention collective de travail).
____
►dans la même collection, consulter les Cours complémentaires de celui-ci :
🕴️F. Kessler 📕 Droit de la protection sociale.
🕴️S. Piedelièvre,V. Magnier, 📕Droit des sociétés
____
📚Consulter l'ensemble de la collection dans laquelle le Cours est publié.
________