ComplianceTech ® . Pour lire cette fiche en français, cliquez sur le drapeau français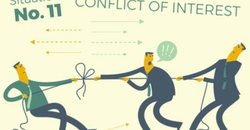 Full reference: Frison-Roche, M.-A., Conflict of interests & "revolving doors"​: what the European Ombudsman said in May 2020, the European Banking Authority agreed in August.Three lessons, Newsletter MAFR - Law, Compliance, Regulation, 7th of September 2020
Read by freely subscribing other news of the Newsletter MAFR - Law, Compliance, Regulation
Summary of the news:
Supervision and regulation authorities' impartiality and independence are conditioned to the fact that their members do not have any conflict of interest with the sector that they supervise or regulate. Such an absence of conflict of interest is necessary to guarantee a climate of trust between the authority and operators. This supposes that regulation and supervision authority members do not cumulate functions of operator and of regulator/supervision during but also after their mandate in the regulation/supervision authority because the anticipation of a future hiring can influence present decisions.
On 2nd of August 2019, the executive director of the European Banking Authority (EBA) informed the authority of its willingness to become PDG of the Association des marchés financiers en Europe, lobby of the financial sector. EBA approved this perspective. However, "Change Finance", a civil coalition, sized the European Mediator explaining that such a professional reorientation created an inevitable conflict of interest. The European Mediator reacted on 7th of May 2020 through a recommendation saying that although EBA took preventive measures, theses measures are not sufficient with regard to the risks. In this recommendation, the European Mediator also made some general propositions to manage future conflicts of interest:
The interdiction for senior managers to have positions able to create a conflict of interest for two years.
The information of senior managers and candidates to senior managers positions of the actual rules.
The implementation of internal procedures blocking access to confidential information to the member who notified its willingness to occupy later a position able to constitute a conflict of interest with its current position.
In a letter of 28th of August 2020, the president of EBA told to the European Mediator that he accepts these remarks and propositions.
In this particular case, we can draw three lessons:
The difficult articulation between independence/impartiality (necessary for trust) and regulator/supervisor expertise. The European Mediator and the ABE are agree that the interdiction to get some positions must be limited in time.

The necessity that everyone can anticipate rules correctly.

The necessity to preserve legal security.