pour lire cette présentation partiellement en français⤴️cliquer sur le drapeau français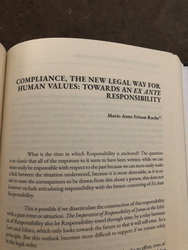 ♾️ follow Marie-Anne Frison-Roche on LinkedIn
♾️ subscribe to the Newsletter MAFR Regulation, Compliance, Law
____
► Full Reference: M.-A. Frison-Roche, "Compliance, the new legal way for human values: towards an Ex-Ante responsability", in Homenagem aoe Professor Arnoldo Wald, A Evoluçào do Direito no Século XXI, 2022, pp. 977-983.
_____
► Article Summary: For the first time, the future is the first question for the Humanity. The classical legal conception of Tort Law concerns the Past, the philosophical conception of Hans Jonas, a Responsability for the Future, an Ex-Ante Responsability must become a legal notion.
Traditionally, the Legislator takes decision for the Future and the Judges takes ones for the Past, but now in front of the possible disparition of human beings on this planet, global and catastrophic perspective, all legal perspectives need to be used, breaking the classical repartition, in the priority of the future. To do something, the Responsability must be put on everyone in a legal force, not only on the classical subject of Law and because of past behaviors, but because the operators, States, firms, or individuals, are "in position" to do so.
This new "Ex-Ante Responsability" is an essential part of the Compliance Law, very new branche of Law, with an extraterritorial effect, to find immediate and active solutions for the future. Because the issue is global, international Arbitration is in position to apply the conception, because international arbitrators are the global judges.
This new conception of legal Ex-Ante Responsability, declared by courts, expressed human values, such as the concerns for the others, in concordance withe the humanist tradition of European and American Law, Compliance being not at all to obey regulations but to concretise an alliance a Monumental Goal, here for the preservation of human beings in the future, and the powers and the legal duties of corporate and people to do so.
____
📝 read the article